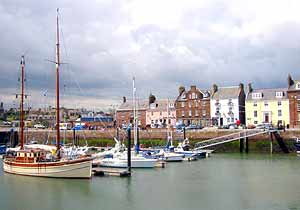 Arbroath is the largest Angus town with a population of 26,000 and home to the famous Arbroath Abbey founded in 1178. It was at the Abbey in 1320 that the declaration of Scottish Independence was signed outling the desire of the Scottish people for self -determination.
Still a working port and yaught marina, Arbroath's harbour, on the Scottish Coast, is an attractive focal point, both for the town and as a gateway to Angus, Fife and Tayside. At the harbor, the mouthwatering scent of that Arbroath delicacy, the 'smokie', wafts from nearby smokehouses.
Arbroath has a fine reputation as a holiday resort, with fine sands, leisure facilities, golf courses and the annual Sea Fest - a three day celebration of the towns maritime heritage.
Arbroath
Just outside Arbroath is the busy village of Friockheim and the 18th Century House of Pitmuies with its stunning gardens.
Our first suggestion would be to visit Arbroath Abbey, which consists of the substantial ruins of a Tironensian which was founded by William Lion in 1178 and that was intended as his own burial place.
Barry Mill - Enjoy the sights and the sounds of a working 19th century mill. Enjoy a delightful walk through the orchards and with its picnic tables and mill pond.
House of Dun - this beautiful Georgian house is overlooking the Montrose nature reserve which was deigned by William Adam in 1930.
McManus galleries is a remarkable gothic building which houses Scotland's most impressive collections of fine and collectible art


Yaughts at Arbroath Harbour

Glamis Castle is the family home of the Earl of Strathmore. Take a wander around the park , garden and nature trail. Have a look in the restaurant and shop too.
Angus Folk Museum - explore one of Scotland's finest folk museums and the life in rural Scotland over 200 years ago.
Kellie Castle visit a castle which is a very fine example of architecture in lowland Scotland.
Barrie's Birthplace - visit the birthplace of Peter Pan's author.
Fife Folk Museum invites you to discover the history of everyday rural life.
Meigle Sculpture Stone Museum is a collection of 25 sculptured monuments.

Visit Angus & Dundee
Golf in Carnoustie
The Carnoustie Golf Llinks (See also Carnoustie Golf Club) have been played over the years by all the golfing greats and have acquired a deserved reputation as a demanding test of golfing ability. Local folklore maintains that the stretch of rugged Scottish links land on which the majestic Carnoustie Championship course stands today, was being used for playing golf some fifty years before Columbus discovered America.
While there are certainly indications that golf was first played at Carnoustie as early as 1427, documented evidence confirms the game was officially being played there around 1527.
The majestic Carnoustie Championship Course is just one of the many golfing gems, which lie scattered throughout one of the world's finest, and as yet, comparatively undiscovered golfing regions.
Golf in Monifieth
Monifieth Golf Links provides golf at its best in the golfing heart of Scotland. The very Scottish Monifieth golf links are located four miles from Carnoustie and half an hour away from St. Andrews.
The two Monifieth courses offer golf for all levels with the larger course - The Medal being an Open qualifying championship course used for The Open in 1999.
Both golf courses offer a very unique Scottish golfing environment as these links courses also have tree-lined fairways in many places.
If your looking for golf in Scotland, look no further than the Monifieth Golf Links.

Golf in Arbroath:
Along the East Coast
For a great trip why not see the other villages surrounding lower largo such as a day in Pittenweem. Or what about a day just admiring the beautiful boats in Anstruther's harbour. At the same time you can visit the local nature reserve which is only one mile long located out at the firth of forth. Set off to St Andrews only a 15 minutes drive and take the children to the Sea Life Centre where young and old can see the wonderful world of the sea and it's inhabitants from shrimp to shark after having a look at what the aquarium has to offer, you can eat alfresco on their beachfront terrace.
South East and Edinburgh
But for a day out in Edinburgh that you're looking for then it has a lot to offer, why not visit its famous Edinburgh Castle or the Royal Mile. You can enjoy the many attractions on the way such as the palace of Holywood House. Or at the end of the day look in on the National Gallery or even the Chambers Street Museum. Other options that are in Edinburgh then there's always the Edinburgh Butterfly and Insect World with its fantastic, breath- taking creatures. You will enter into there world and will discover bugs you never knew existed. Well recommended. If you still fancy seeing a bit more of Edinburgh then why not spend the day at Edinburgh Zoo, one of Scotland's leading zoos - get the chance to see some animals such as tigers, penguins and other countless species
Glasgow (west)

Glasgow

Glasgow, home to a lot of well known places such as the Glasgow Science Centre or the MacIntosh School of Art. There are lots to see and do and even if it's just for a couple of hours you can keep yourself very busy. Visit the Gallery of Modern Art a child-friendly gallery the exhibition exists of 4 galleries and admission if free.
Take a walk through the People's Palace and Winter Gardens or enjoy the many beautiful exotic plants in the large greenhouse.
Pollok House - visit the house that was built in 1931. The elegant rooms and beautiful art is all shown on a tour. Pollok house is a delightful place to spend a few hours away from the hustle and bustle of the city.
Upper estuary of the Forth
Deep Sea World - a fantastic day out. Get the chance to go to a touch pool where you can get close to some wonderful underwater creatures. Take a journey through the inhabited depths of the deepest ocean. See rays, sharks and over 1000 other fishes and marine life. Perthshire is just 45 minutes from the cottage, where you can get a taste of the highland scenery with its many rivers, walks and castles.
West
In Stirling, take a wander around the castle that looks over the town. Stirling has provided the setting for many colourful events through Scottish history; it has many attractions for visitors including Argyll's lodgings, royal palace of James v. Visit stirlings old town jail and put yourself in to a prisoners' shoes and discover what life most have been like behind bars over 150 years ago.
Visit Bannockburn, where a heritage centre has been built on what is believed to where Robert the Bruce directed his troops. Then see what the centre has to offer and look at the audio visual presentation on the battle and there exhibition.
Northwest
Falkirk Wheel - the worlds first and only rotating boat lift the Falkirk wheel is very unique - this exhibit has lots to offer with its café, kids play area and gift shop.
South west
New Lanark - Go and see the cotton mills in New Lanark, an hour away from Edinburgh and Glasgow. It is Scotland's most important monument to the Industrial revolution but now it has become a world heritage site. With it's beautiful architecture and good museum with a theme park style ride taking you through new Lanark's history.
Scottish Borders
Visit the borders. With loads of castles, such as Floors Castle, and abbeys telling the history of Border disputes with England, they also have a selection of woolen mills. A wonderful assortment of scenery featuring river valleys and bleak moorland. Look around the gardens and visit Peebles, with its quaint shops and picturesque town. You won't be disappointed. Hopefully with our few suggestions on Arbroath and the area roundabout you will be able to find something that interests you.